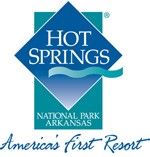 VISIT HOT SPRINGS
134 Convention Boulevard • Hot Springs National Park, Arkansas  71901
1-800-922-6478 • 501-321-2027 • FAX 501-620-5008
________________________________________________________________________
NEWS RELEASE
April 14, 2022
FOR IMMEDIATE RELEASE
CONTACT:    Paul Johnson 501/231-3817
Four Free Musical Acts, Display of Vintage Aircraft Added
To Memorial Day Fireworks and Activities at Hot Springs Airport
To Celebrate 75th Anniversary of Memorial Field
HOT SPRINGS NATIONAL PARK, Arkansas — Four free musical acts will perform Memorial Day weekend, and vintage aircraft will be on display as Hot Springs' Memorial Field Airport celebrates its 75th anniversary.
"We're adding free music, classic aircraft, an '80s costume contest and plenty of other activities to the biggest fireworks display in Hot Springs history as we mark the 75th anniversary of our city's airport," Airport Director Glen Barentine said. "And it's all free and open to the public. So come on out for a full weekend of fun for the whole family."
The fireworks display, announced previously, will be held at 9 p.m. Saturday, May 28. The display is being moved this year only from Lake Hamilton to Memorial Field as part of the Bombers and BBQ celebration. The display will return to Lake Hamilton in 2023. It is one of three sponsored each year by Visit Hot Springs. The other two are on July Fourth and Labor Day.
Kim Weatherford, who is coordinating the weekend's celebration, said the activities will begin at 4:30 p.m. Friday, May 27, with the 1980s costume contest being the first activity on the agenda. The free music begins at 6 p.m. with a performance by Blane Howard, followed at 8 p.m. by The Molly Ringwalds, a band that celebrates 1980s pop culture.
The gates open at noon on Saturday, May 28, with an all-day display of vintage aircraft that includes a P-51 Mustang and an AA DC-3 Flagship Detroit, Weatherford said.
The remainder of Saturday's activities include:
A Baggo tournament (registration from 11 a.m. to noon) followed at noon by the tournament itself
KCBS barbecue competition featuring 50 teams competing for $15,000 in prize money
Mayday By Midnight band performs at 5:30 p.m.
The Just Sayin Band at 7:30 p.m.
The largest fireworks display ever held in Hot Springs at 9 p.m.
Weatherford said food trucks, vendors and an ATM will be available on site, and proceeds from the event will benefit The United Way of The Ouachitas, Garland County Stop Animal Cruelty and the Fraternal Order of Police.
For more information, contact Kim Weatherford, Kimhamilton1285@gmail.com